Lazy Daze Lavender Fields

TM

would like to welcome you to our website. You will find we are a family friendly company with fields in Middleborough, Massachusetts. We are entering our sixth year of offering a CSA, community supported agriculture, to provide locally grown produce to the community. Up-to-date information can be found under the heading CSA Information. We will deliver directly to a group pick-up site once a week.




Lavender Bundles
We are currently selling our lavender at the following events:
Weymouth Farmer's Market every Saturday from 9am to 12pm (noon).
Assembly Row Riverfest Saturday September 10 11:30am to 8pm
Durfee Christmas Craft Fair December 3 and 4 at Durfee High School in Fall River 10am to 4pm each day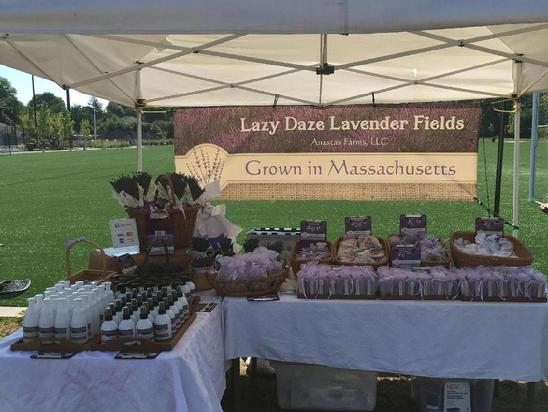 Weymouth Market
The CSA sign-ups for 2016 growing season are now closed. If you wish to be placed on the 2017 season wait list please send us an email with your name and email address. Thank you.
© All content of this website is the copyright of Anastas Farms, LLC. 2016. Updated on August 3, 2016.
Anastas Farms, PO Box 710, Middleboro, MA 02346
Website powered by Network Solutions®